Events
Panel/event submission form
The complete schedule is published about 3-4 weeks before the convention. Here are some of the great events to expect.
Masquerade
Our masquerade will be the best opportunity to show off your costumes and see some awesome, talented people. We have experienced costuming judges, and excellent competitors. We do everything we can to make your costumes look excellent on stage.
Learn More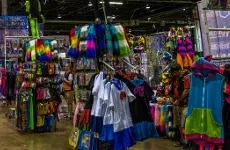 Exhibit Hall
Our exhibit hall will be a wonderland of anime treasures, with a wide variety of vendors selling everything from cosplay costumes and accessories to rare collectibles and DVDs. Looking for the latest in anime, manga, and art? We've got you covered. Need to stock up on plushies and costume accessories? We've got that too! And for those looking for something truly unique, we'll have vendors selling handmade crafts and art inspired by your favorite anime and manga. With so much to explore, our dealers room is not to be missed!
Friday & Saturday Epic Dances
We have several distinguished and electrifying talents in our guest list, including the likes of Greg Ayres and YTCracker, among others. These virtuosos are poised to set the stage on fire with an adrenaline-infused selection of EDM. Forget about bad transitions and little bass, we're talking about a non-stop, pulse-pounding journey through the best of Jumpstyle, Hardstyle, Techno, Trance, House, Drum and Bass -- whatever the audience can groove to. Rest assured, there won't be a moment's lapse, and the quality of our DJs is uncompromising.
Formal Fantasy Cosplay Ball
As a special treat, our convention holds an annual fantasy ball. Admission is free to convention attendees with a badge. In addition, we will have professional formal dance lessons before the event begins, taught by an experienced dance instructor. For those without dates, we will even have our very own Date Auction on Friday afternoon, before the ball. Semi-formal outfits and above required for this exciting featured event.
AnimeCon.org's Fabulous Date Auction
Unrivaled by any other convention, our Fabulous Date Auction is your chance to win a date to the formal ball.... or several, if you're greedy. Join our sexy 15-con veteran hosts as they auction off other cosplayers to the highest bidder. Money goes towards improving the con, and 10% of all winning bids is donated to charity.
Panels
Kanpai!Con will feature fan-run panels on a whole host of topics submitted and created by attendees like you. Talk about favorite shows, compete in homemade game shows, learn stuff, and more! Everything you love, from Lolita and Dolls, to Homestuck and Pokemon, we'll have it. Want to run a panel? Go to the event submission form.
Cosplay
We are excited to feature tons of cosplay events, in addition to the mainstage masquerade cosplay competition, including photoshoots, meetups, panels, and much more. Join your friends and celebrate your favorite characters in costume.
Masquerade Rules
|
Online signup is available when the con is between 60 and 2 days from now.
You can sign up at the con until we're full.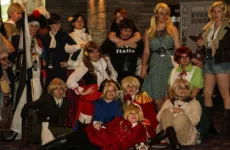 Meetups
Meetup with people who like the same stuff as you. Whether it's Ball Jointed Dolls, Lolita Fashion, Kingdom Hearts, J-Pop, or whatever, you'll make friends here.
Autographs
We have a ton of awesome guests and of course you can have their autograph. Autographs from most of our special guests are free, so bring your favorite DVD to get signed (no bootlegs, please).